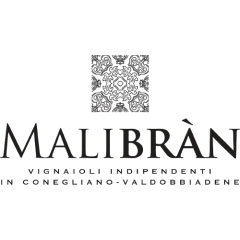 Prosecco
Conegliano Valdobbiadene: a difficult name for an inimitable wine, Prosecco Superiore. (Besides, the best things in life are hardly ever the easiest). It is a wine you will be able to recognize "blind" once you have tasted it: a fine, fresh, elegant ambassador for a unique region of steep hills covered in a dense coverlet of vineyards. Since 1st April 2010, in order to safeguard this precious treasure created by man and nature, Conegliano Valdobbiadene Prosecco Superiore has become part of Italy's premium wine category: D.O.C.G.. A "G" that stands for Guaranteed quality in every single bottle. There are totally 44 DOCG producers only and 318 DOC category producers.
The individually numbered, salmon-colored Italian State seal gives every single bottle instant traceability. In this way the consumer can trace the story of that particular wine in a very precise way, because every stage of its production is subject to strict controls. The terroir as a guarantee of Superior Quality. On the label, all the wines highlight the name of the Denomination, "Conegliano Valdobbiadene", followed by Prosecco Superiore in the case of the fully sparkling versions. The sparkling wines may show the names "Conegliano Valdobbiadene" or "Conegliano" or "Valdobbiadene" on the label.
The production zone is the historic one, limited to the hills of the 15 communes lying between the two production capitals of Conegliano and VaIdobbiadene; the restricted size of this area bears witness to the special nature of the product.
The wine is produced from a minimum of 85% of grapes of the Glera variety and a maximum of 15% of Verdiso, Bianchetta, Perera and Glera Lunga grapes, cultivars that have been present for centuries in the hills of Conegliano Valdobbiadene. Pinot and Chardonnay grapes may also be used in the sparkling versions.
The history of Malibran is similar to many others: a piece of land…a kind of wine and traditions. The winery was founded more than 50 years ago by Gregorio , far seeing farmer that chose to grow his wines on the flowing hills of Susegana. To the ancestor Gregorio is devoted popular sparkling wine called Gorio.
Today, Maurizio Favrel is owner of the winery and hehe follows the oenological side creating wonderful sparkling wines.
Malibran Valdobbiadene D.O.C.G sparkling wine does not need any explanation, it introduces itself with simplicity, joy and harmony. Thanks to its brilliant color, its fresh and rich taste and its elegant perlage.
Malibran – the italian style of drinking sparkling wine!